---
Colour broke out in the sophisticated aisles of Milano Unica where the most rarefied fibres, complex weaves and tastefully accessorised fabrics are examined by buyers far and wide.
The warmth of the brown spectrum gradually gains strength and gives a depth of tone, often livened up further by macro versions of houndstooth, herringbones and Prince of Wales checks, summer blazer stripes - themselves recoloured - while others exploit the continuing trend for blue - from denim to cobalt. Many fabrics were larger than life, all shouting a little louder than usual, to good effect and seen at the technicolour and heard in the loud music of the trend area.
Style, as noted at the menswear fairs, is changing to accommodate a new generation, grouped around the taste of millennials. This generation has fewer taboos about dressing, mixing elements at will. This has given go-ahead Italian and British mills a great opportunity to revamp their collections and introduce new qualities and colours in a big way.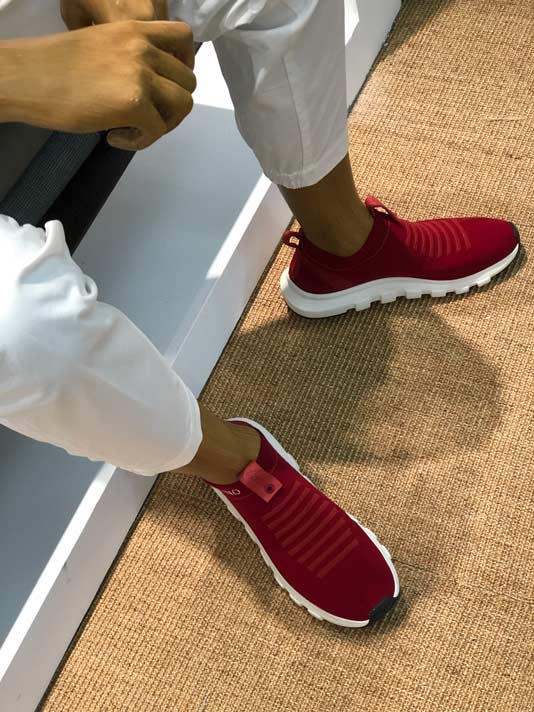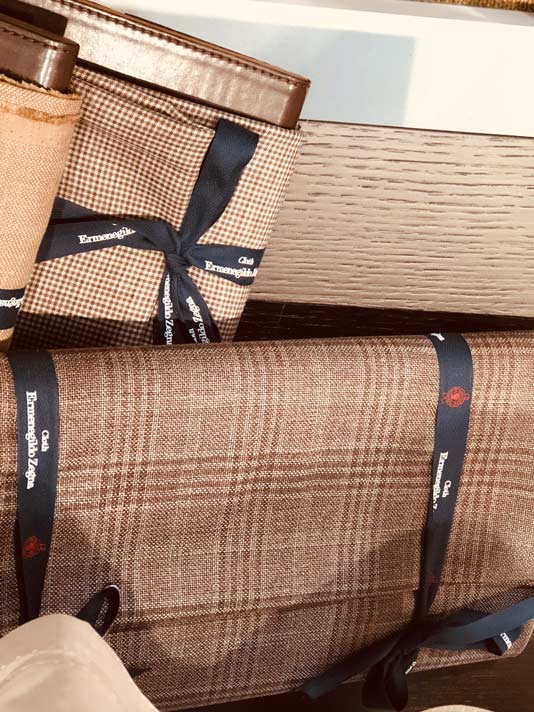 The suit is not quite dead, but it has risen in a new form, often designed to be worn mix-matched in jacket and trousers, sometimes putting two quite different patterns together and increasingly matching them up in the summer with techno-developments like knitted shoes - Merino of course - in chic outfits at Ermenegildo Zegna.
Others with conventional tastes are looking for fabrics with new colours for classic designs which they can trust. Richard Boide, Commercial Director of Dormeuil, explained the renaissance of Tonik, an iconic Dormeuil fabric first launched in 1957. "Now, as Tonik Wool, it is proving of great interest to customers who already have quality values associated with the name."
All the major players in the pure wool area of suitings are eagerly looking for solutions for the new traveller, who, under time pressure, does not want to think much about how he or she will make sure they look smart and feel comfortable after multiple journeys, meeting and screen time. The solution is good news for Merino wool. The biggest names in this have recognised the potential for this genre, where the innate qualities of Merino wool make it the favoured fibre in the collections of Ermenegildo Zegna, Marzotto and F.LLI Cerruti dal 1881.
Lanificio Angelico launched a new range named Meeting, a travel suit in a range of wool-based fabrics with a multi-purpose look for various times of the day, all washable fabrics in summer wool. The travel suit is usually lightweight, taking advantage of Merino's bounce-back under pressure, easy-care properties and appearance combined. The importance of the Cerruti-neatly named iTravel suit was pointed out by new Cerruti CEO Paolo Torella Viera, as "Artisan values and technology responding directly to the needs of customers".
Fabric suitable for womenswear is increasingly sought after in men's formal collections, reported several top-end exhibitors, citing the fact that women in top jobs are looking for "something different", but not a feminine look, preferring a classless business-appropriate fabric and welcoming more colour in the mix. An interesting development very likely to expand.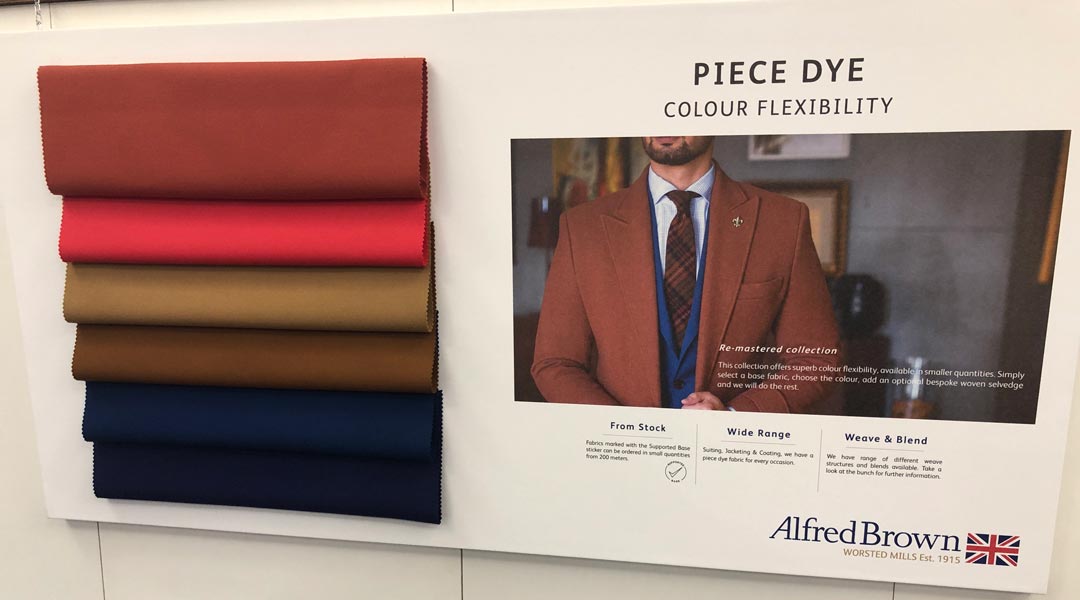 UK exhibitors reported a growing demand for British made worsted cloth. David Gallimore, Managing Director of Luxury Fabrics, stated their mills were busier than for years, with interest from many areas, Italian, Japanese and multinational fashion labels. Customers cite revamped traditional English design superfine wool, and the quality of British cloth finishing. Alfred Brown for instance has deep-coloured piece-dyed Merino wool fabric which has sold to French couture houses.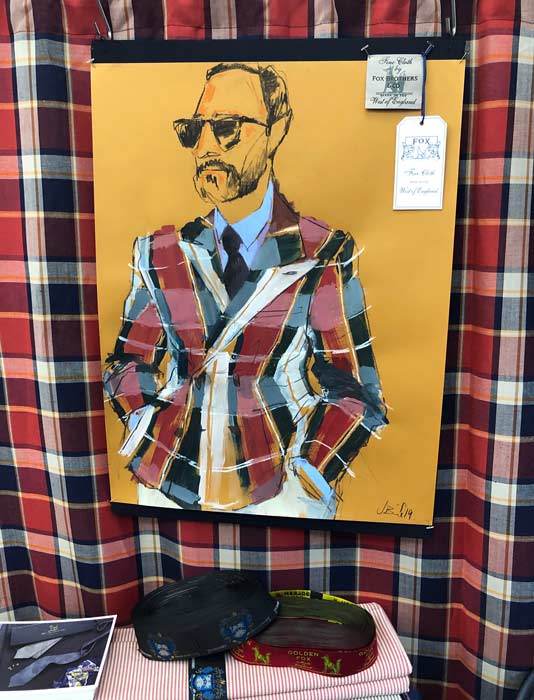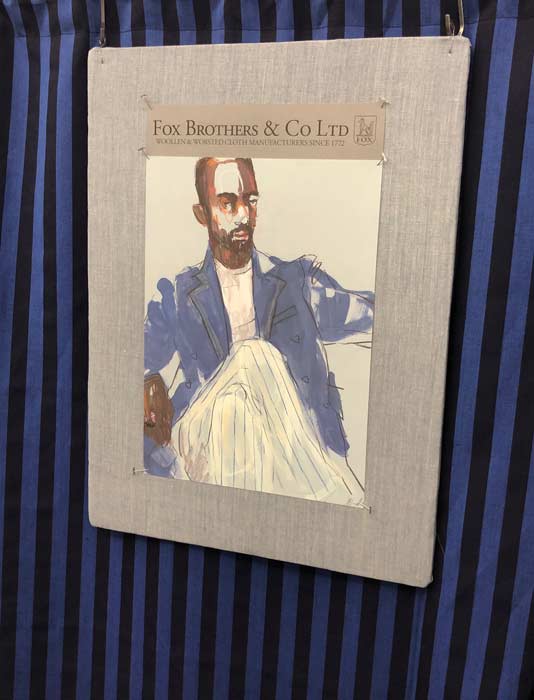 Demand for tailored garments is growing. Vitale Barberis Canonico has reintroduced a 21 micron cloth, with thicker yarns being suggested for Spring/Summer as especially suitable for unlined jackets and deconstructed suits, getting back to the product. Douglas Cordeaux of Fox Brothers remarked "the upsurge in tailored products is in one sense because people like the experience; they enjoy choosing the buttons and that behind it all, there are people weaving the cloth; it's all very real".
Milano Unica is wedded to the concept of sustainability as at Botto Giuseppe and there was general emphasis on certification of products, manufacture and the ultimate destination of garments for disposal. This is patently a growing issue in a commercial sense. There might be fears of a slow down in prospect in some quarters due to international pressures, but Milano Unica's top fabric mills showed that at that level it is still a hive of activity, and that experimentation is key.