---
The Woolmark Company returned to SPINEXPO Shanghai, showcasing the latest innovations in wool shoes along with the ultimate sourcing guide for wool fabrics and yarns – The Wool Lab.
The latest innovations in wool have led to the rise of wool footwear - shoes that enhance the fibre's natural properties whilst constructed in a way which aids performance. The Woolmark Company's technical team has been working to create shoes that are not only comfortable and allows your foot to breathe, but is also resistant to odour and wicks away moisture.
Working closely with leading knitting machine manufacturers - such as Shima Seiki, STOLL and Santoni - The Woolmark Company has created several prototypes using advanced wool yarns to enhance the inherent benefits of the fibre. For example, by combining yarns together and 3D knitting, the entire upper can be free of cutting and sewing. Comfortable for wearing next to skin by using a 100 per cent Merino wool yarn as an inner surface layer, the latest spinning technology helps to knit the fabric onto the outer face of the shoes' upper, enhancing the abrasion resistance. Post-workout muscle recovery can also be improved by using a combination of Far Infrared (FIR) material with wool.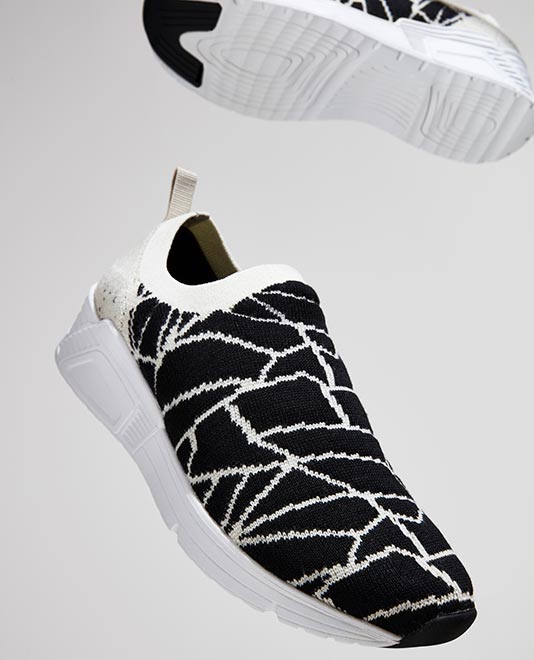 "Thanks to our more active lifestyle and casual approach, runners are undoubtedly one of the most popular items in today's global market," explains The Woolmark Company's General Manager, Processing Innovation & Education Extension Julie Davies.
"The natural properties of wool - such as odour resistance, breathability, comfort and shape retention - allows for the ultimate in footwear. By working closely with our suppliers, we have been able to develop technically advanced yarns to be incorporated into the upper, inner and liner for a range of machine washable footwear."
The rise of wool sneakers is part of a larger trend, with Merino wool continuing to cement its rightful place in the growing sports and activewear industry. The Wool Lab Sport returns to SPINEXPO, with the latest edition showcasing the most advanced commercially available wool yarns and fabrics suited to the sportswear market. Covering both athleisure and high-performance activewear, The Wool Lab Sport will be available for viewing at The Woolmark Company's stand.
In addition, The Wool Lab Autumn/Winter 2018/19 was also be on display and available for one-on-one viewings. This edition marks six years since The Wool Lab first launched, with each edition well received by trade and generating more than 10,000 swatch requests per season. Each season, an increasing number of fashion designers and brands look forward to seeing the latest offering as it provides the opportunity for them to explore an actual sourcing guide for commercially available products.