Merino Air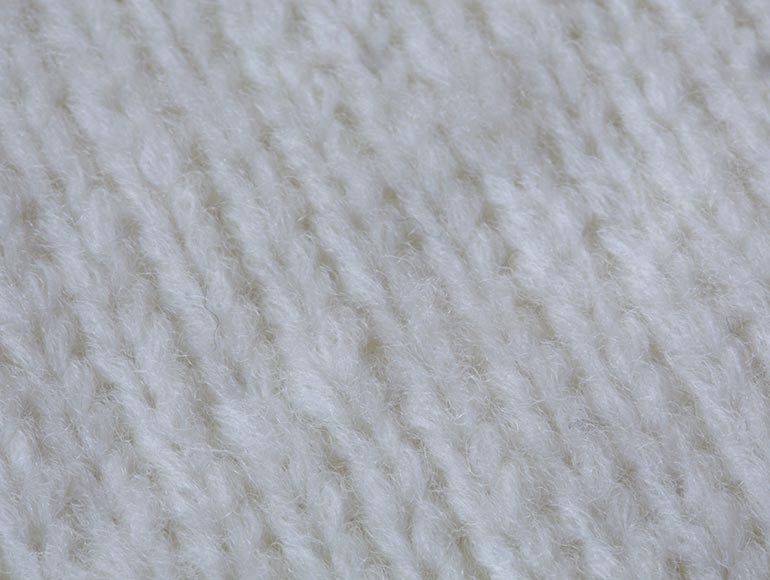 Merino Air enables the lowest possible twist levels to be used in pure wool knitwear yarns, offering more warmth to a lighter garment
Merino wool is well known for its thermal properties, which are due to its ability to trap air between the fibres. During spinning the spaces between the fibres are reduced by inserting twist, which is necessary for the integrity and wear performance of the yarn and the end product. The higher the yarn twist the better the strength and performance in knitting but the worse the air-trapping abilities.
Merino Air enables the lowest possible twist levels to be used in pure wool knitwear yarns to yield a lighter garment and thus more warmth for a given weight of wool.
The technology
The ideal yarn, in terms of 'warmth without weight' has zero twist but has until recently been impractical. Now with the development of new 'air' spinning systems zero twist yarns are possible.
Merino Air technology involves knitting a very fine tubular net into which wool fibre is 'blown'. The net is made from very fine pure wool yarns and is strong enough to permit the yarns to be knit and to give acceptable levels of pilling performance and burst strength.
If mercerised Merino fibres are blown into the tape the yarn surface is fluffy and shows subtle lustre.
The features
Zero twist yarn for ultimate bulk and softness.
Pure New Wool yarns feasible.
Ideal for coarse gauge knitwear which is light to wear.
Knitted yarn structure protects the yarn to yield good knitting and pilling performance.
For further information about Merino Air contact your local Woolmark Company office.