---
Wool's natural resistance to fire has been further endorsed by a new scientific study, which found wool base-layer garments are a proven defence for military and first responder personnel.
The study, undertaken by AgResearch, found wool and wool-rich fabrics performed the best, while the 100% synthetic fabrics (made from polypropylene and polyester fibres) performed the worst due to their propensity to melt and damage the skin.
Wool and protective clothing
Wool has long been a choice for protective clothing - with wool used to protect wearers in hostile environments and weather conditions - making wool the fibre of choice for outer-layer garments. Now, the military and first responders such as firefighter and police officers are looking to base-layer Merino wool garments as the body's 'last line of defence' due to wool's breathability and its inherent properties of high ignition temperature, high limiting oxygen index and self-extinguishing behaviour.
The increased demand has in part been driven by the incidence of injuries to military personnel in the Middle East, where battle techniques such as improvised explosive devices (IED) were used. Considerably more severe skin injuries occurred when synthetic base-layers were worn, as they can melt onto the skin at high temperatures.
Study proves wool's flame resistance protects military and first responder personnel
A selection of fabrics used as base-layer garments for military and first responder personnel were tested as part of the new study.
These consist of 100% polypropylene, 100% polyester, modacrylic/rayon/nylon blend, Nomex/spandex blend, merino wool/fire-resistant viscose blend and 100% Zirpro®-treated Merino wool. It must be noted the fabrics were of varying weights, as matching g/m2 fabrics were not commercially available.
The test method involved two techniques to simulate the skin's exposure to, firstly, a naked flame ignition source and, secondly, an accelerant fuelled threat (such as an IED or petrol bomb). The results showed the worst performing fabric was the polypropylene fabric closely followed by the three polyester fabrics.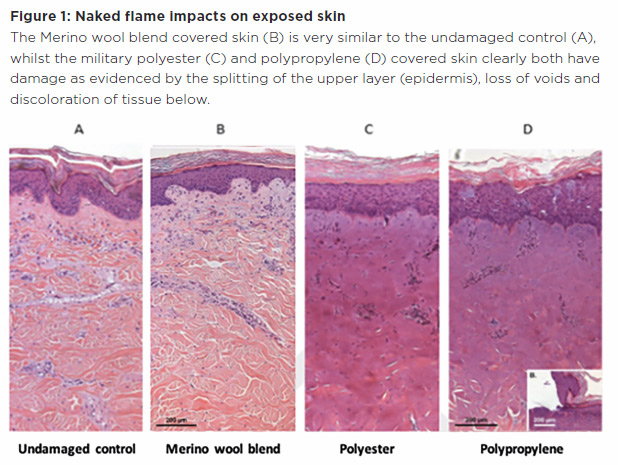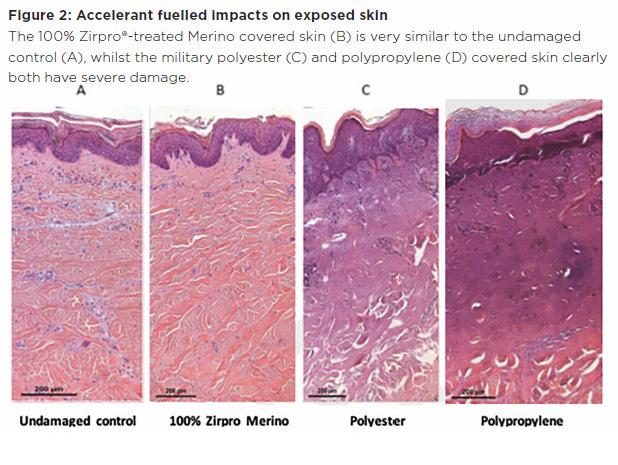 The fabric that performed best overall was the Zirpro®-treated Merino wool (100%) mid-layer fabric, which showed no apparent differences compared to the undamaged control samples in both the naked flame and accelerant tests.
The best-performing base-layer fabric was the double knit of the Merino/fire resistant treated viscose blend, followed by the rib knit of the Merino/fire resistant treated viscose.