---
Say the name Paul Smith to anyone and you are guaranteed to receive a positive response. With 1700 points-of-sale around the world, a 40-plus year career, regular collaborations with high profile brands outside of his own, a travelling survey exhibition of his life's work, and a Commander of the Most Excellent Order of the British Empire [CBE], the British fashion designer is one of the world's greatest living creative artists and businessmen. Interestingly, however, he's also one of the most engaging, regularly inviting students into his office-cum-design studio in London, and mentoring emerging designers, such as International Woolmark Prize alumni Agi & Sam.
"What's so nice about the travel suit is that it's completely honest, because I'm on a plane every week of my life."


"It's about giving back, really," says the charming designer. "I just think that the more mature you are, and if you have a little bit of money, then you should try and give back. Young people are incredibly inspiring, too, and so it's lovely to engage on that level." It's a mentality that stems from Sir Paul Smith's humble beginnings, having begun his label in 1970 in a three-metre-square shop in Nottingham. This store was recreated in the designer's travelling exhibition, which began at the London Design Museum and has since travelled to Belgium and Glasgow, and a version of it for his fall/winter 2016 presentation at London Collections Men, put together with cabinets of curiosities that inspired his designs. "It's about finding inspiration in everything," explains the designer. "It's about looking at the collection and asking, 'How did the Argentine tango inspire a colourful new bag? How did a pile of cycling jerseys transform into a print for a new collection of accessories?'"

There is, as the designer points out, a story behind every collection and the way it is presented. For fall 2015, Smith staged an ambitious, performance-based presentation to showcase 'A Suit To Travel In', a suit that is, as its title suggests, perfect for travelling in. Constructed from quick-recovery, crease-resistant Merino wool cloth with a water-repellant quality, the presentation featured Olympic medal-winning gymnast Max Whitlock performing a series of awe-inspiring physical feats, demonstrating the versatility of the suit as it stretched, moved and catered to the body's limits. Due to its popularity, the travel suit now forms a permanent part of the Paul Smith seasonal collections, and the styles and colour palette continues to expand, now comprising an evening dinner suit, and a two-piece in blue windowpane check.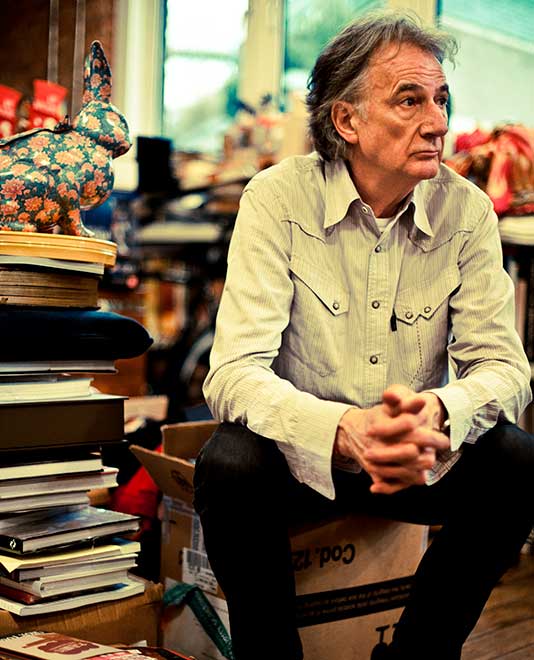 Sir Paul Smith by James Mooney
"What's so nice about the travel suit is that it's completely honest, because I'm on a plane every week of my life," explains Smith. "It wasn't created for marketing hype, but because it's something that I personally needed, and it really does work." Key, of course, is the suit's use of Merino wool, and with thanks to technological advancements, no manmade fibres are present in the creation of the travel suit, which might previously have been included so as to give the cloth the ability to stretch.
And it's not the only type of product in which the designer uses wool, with knitwear and outerwear forming a big part of both his men's and women's collections, as well as a special collaboration in 2014 with cycling brand Rapha, in which Merino wool was used as a main ingredient. "When you think Edmund Hillary climbed Mount Everest wearing wool, it makes sense that we would go and use this fibre in the future for outdoor pursuits. It can be windproof, waterproof, breathable, UV resistant, so for something like cycling, and I'm an avid cycler, it's just perfect."
"We're close to a lot of bands, some young and some older, and it's great to connect with people through music."


Paul Smith's spring/summer 2016 collection, now in stores around the world, offers an innovative take on traditional wool tailoring produced in skin-tight and voluminous iterations. A double-breasted wool blazer is cut wide from the body and extends to the mid-thigh, for example, while trousers run the gamut from slim to extremely wide-leg. Music is an incredibly rich source of inspiration for the designer and in these silhouettes and bold brights (red, yellow and royal blue are highlights) you can see many musical legends from eras past, from the Mods of the 1960s to the punk rockers of the 1980s.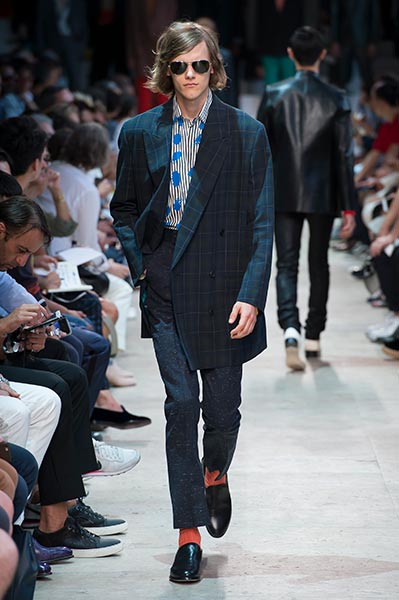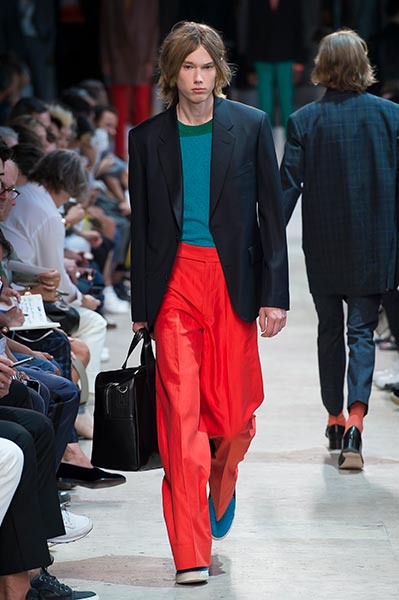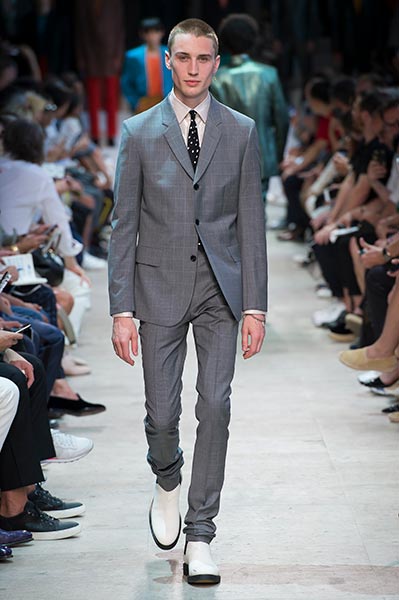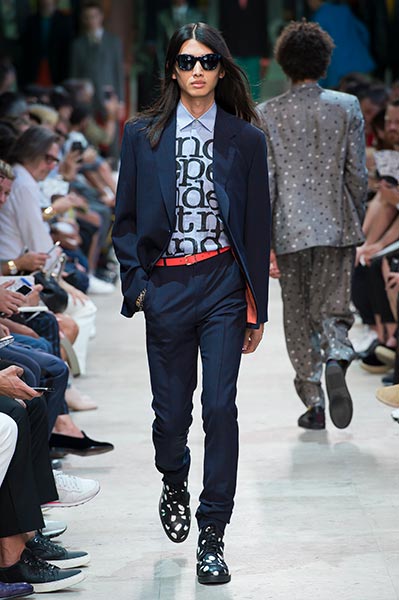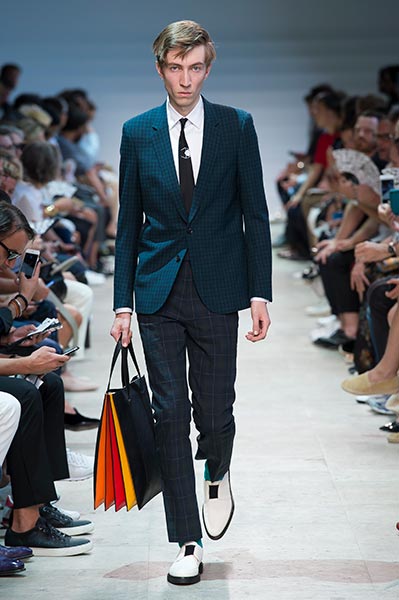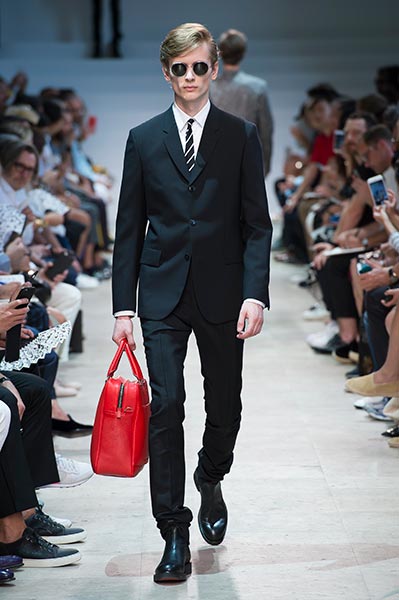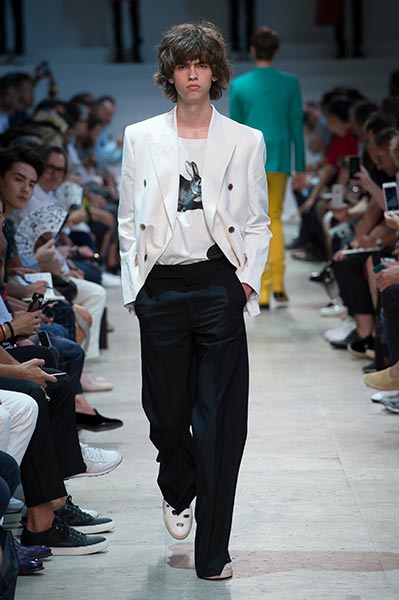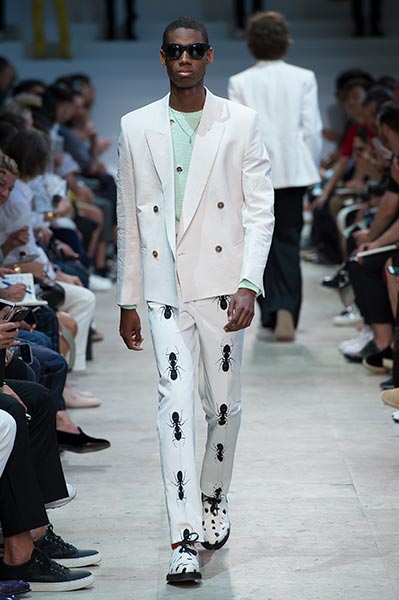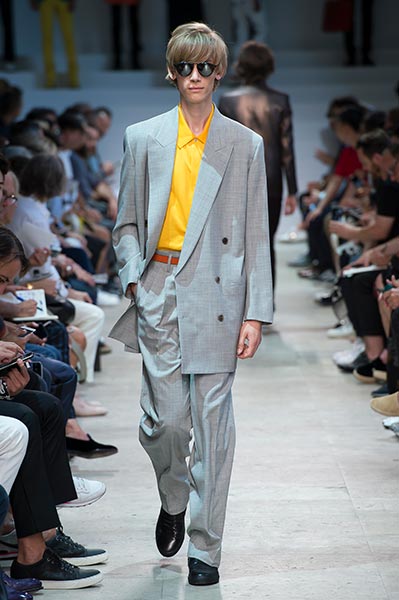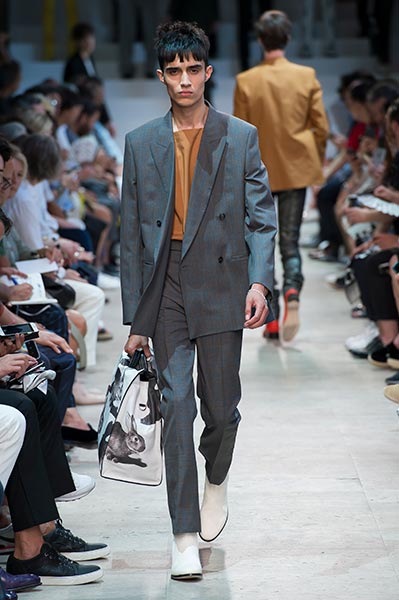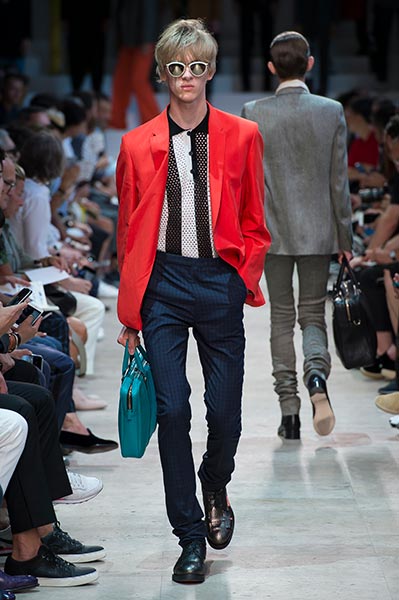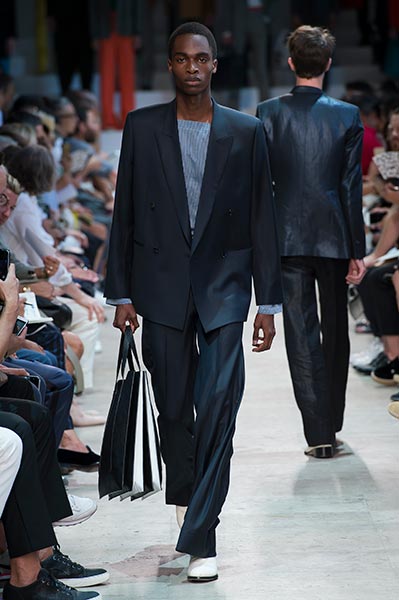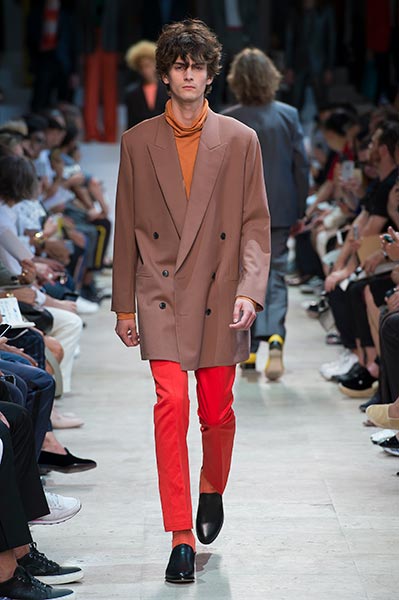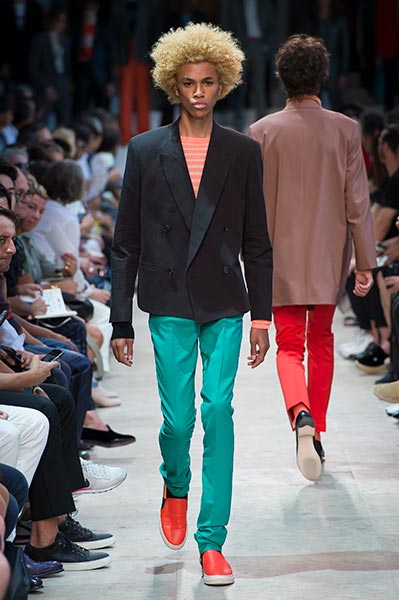 Paul Smith SS16 Runway Show
Musical influences abound in the broader Paul Smith brand, too. In what was to prove rather prescient, Paul Smith released a series of t-shirts in collaboration with David Bowie, marking his new Blackstar album, merely days before his death (Sir Paul Smith honoured his friendship with Bowie with a soundtrack dominated by the legendary musician at his menswear show later that month in Paris). Previously, he has collaborated with Led Zeppelin on a series of scarves, and bands often perform in his stores, such as Jimmy Page in London and Tokyo, and Albert Salt in Melbourne. "We're close to a lot of bands, some young and some older, and it's great to connect with people through music, so we try and do these special things often," explains the designer.
There are more than 1700 Paul Smith boutiques and points-of-sale throughout the world. Visit paulsmith.co.uk for more details.