---
Since launching the brand Lone Costume in 1999, fashion designer Wook-jun Jung has been reconstructing the idea of classic menswear with his own unique point of view. In 2007, Jung launched the brand JUUN.J, named after himself. It was first introduced at Paris Men's Fashion Week and in 2013, Jung was granted membership to the prestigious Fédération de la Haute Couture et de la Mode, and was invited as a guest designer - the first designer from the Republic of Korea - to Pitti Uomo. Jung has now firmly established his world of fashion by combining different elements of classic tailoring, avant-garde silhouettes, military inspiration and street culture.
JUUN.J has now been around for 10 years since it debuted with the Paris collection in 2007. What was your most memorable moment from the past 10 years?
I would have to say it was when I presented the first collection of JUUN.J in Paris. In a way, it was like setting foot on the world stage of fashion for the first time. I was all over the place - from design to manufacturing, promotions and even sales – as it was my duty to oversee everything from A to Z, so it was really hectic. At the same time, I felt an incredible sense of accomplishment. I had a desire to reinterpret classic menswear with my unique point of view. I wanted to catch people by surprise, and the result was successful. All in all, I was able to present a trench coat with a twist as a signature item of JUUN.J and firmly establish the brand with this Paris collection.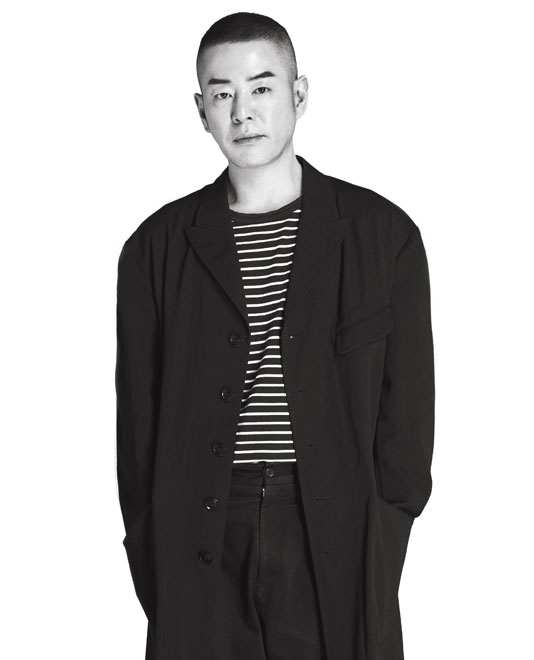 The designer behind JUUN..J, Wook-jun Jung
Speaking of which, trench coats are showcased in every collection of JUUN.J. The use of materials, colours and details may change a little, but still a variety of trench coats are introduced every season. Is there any particular reason as to why you prefer trench coats so much?
Trench coats represent classic menswear. With a little modification in design, the overall result is dramatic. To me, that is very interesting. Also, I personally think that out of all fashion items, trench coats have the most perfect shape. They are intense, dramatic, and look masculine, which cannot be found in other garments.
Nowadays, styling is as important as individual pieces of clothing, which can be seen in the work of popular brands like Vetements and Gosha Rubchinskiy. You are in charge of styling for all of the clothes that will be worn on the runway. Is there a reason not to hire a professional stylist? What is the most important aspect of styling for you?
Some people say it is not a good idea for one person to be in charge of both design and styling, and I am not saying they are completely wrong. A stylist can catch what a designer cannot find; that is why a lot of designers work with professional stylists. But I also have a belief that I know my clothes more than anybody else. Also, I think it is incredibly meaningful to arrange clothes perfectly for a fashion show. I think it is important to know how I can create, mix and deconstruct silhouettes when styling.
Advertising campaigns of JUNN.J are extremely intense as well. You use a rather heavy tone, sharp contrasts, and dramatic silhouettes as a focus. Do you also participate in ad campaigns as in styling?
Yes. I do pay attention to ad campaigns as well. This is not only because we have few images to attract people's attention, but we also have to reveal brand characteristics. The photographer Jang-hyun Hong and I discuss every step of ad campaigns - from the planning to the shooting, what will be the concept, and which model will wear which clothes.
It drew a lot of attention when G-Dragon and Taeyang of Big Bang were hired as your models for the 2016 F/W campaign. Who is your model for the 2017 S/S campaign?
Ville Sydfors from Sweden was our model for the 2017 S/S campaign. When looking at his portfolio in the past, I was quite impressed and wanted to work with him, and I was quite lucky to be able to do so on this occasion.
JUNN.J is also quite well known for collaborating with artists. Starting with Swiss photographers alExandFelix in 2012, you have collaborated with artists from different fields such as Greg Simkins, Oleg Dou, Paolo Pedroni and Hajime Sorayama. Do you have special criteria for enlisting artists? How do your collaborations work?
I am not a graphic or illustration artist, so I started collaborating with artists, thinking that I wanted to work with professionals in printing and painting to embed their work in the clothes. The criteria are simple; am I curious about the artist or do I want to work with him/her? Also, I consider whether it would be good for JUNN.J the brand to generate a new synergy between these two parties. Collaborating does not just end when the artworks are printed on garments. Just making one T-shirt requires a lot of discussion. Of course, we may have different opinions from time to time but the point is to be considerate, respect each other, and come to an agreement. The essence of collaborating is for both parties to compromise in order to come up with an outcome.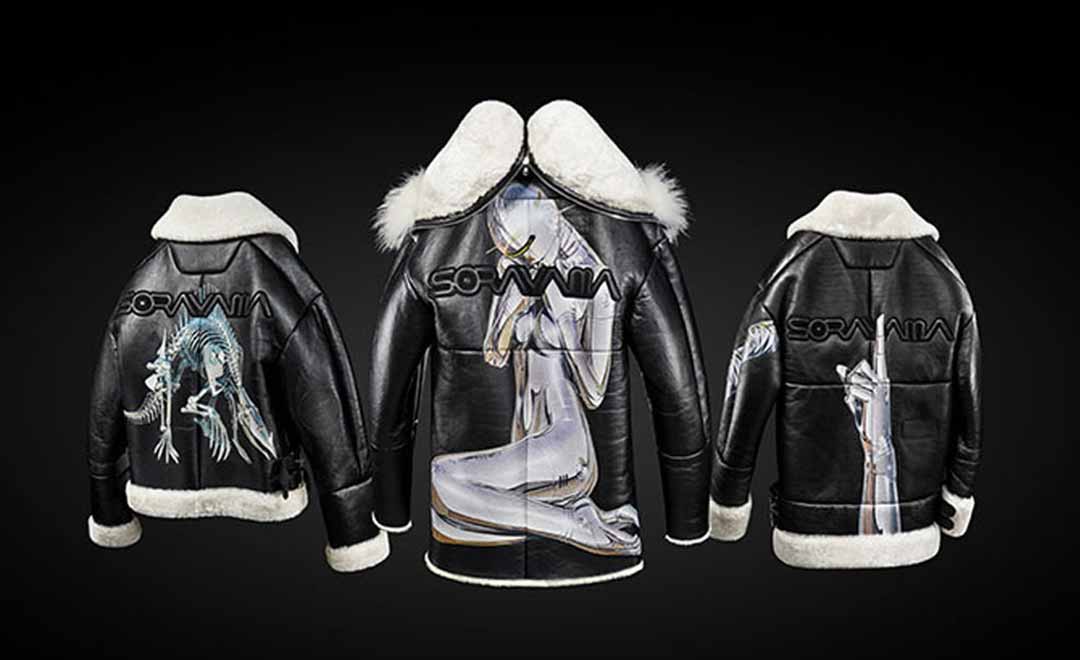 JUUN.J x Hajime Sorayama F/W 2016 collaboration
JUUN.J's motto is 'diversion of classics'. What does 'classic' mean in today's society? What is a JUNN.J classic?
Classic is a value that does not change over time. In today's fast changing world, however, classics adhering to old styles can sometimes feel old-fashioned. Restructuring old style classics with a contemporary artistic sense and perception is the classic that JUUN.J pursues. The purpose of JUUN.J's collections is to break stereotypes assigned to classics; it is to reinterpret and reprocess old classics to result in a 'new classic'.
What is the most important value or element of menswear? What is JUNN.J's masculine ideal?
Until now, menswear achieved its traditional goal of expressing masculinity through rules, silhouettes and techniques. And I respect the traditional language of menswear with all my heart but the stereotypical notion - and binary thinking - that men should be masculine and women should be feminine is an outdated view. The same goes for fashion. The 2016 F/W collection was focused on tearing down boundaries of nations, races and gender. I believe what revolves around fashion is a desire for something new especially the concept of gender, which is standardised in a framework that's not sacred and inviolable in the world of fashion.
Now I can understand why you introduced womenswear in the 2017 F/W collection.
We mixed military items, classic tailoring, a hip hop sense and street style in the 2017 F/W collection. Personally, I think the most important element of the collection is that JUUN.J introduced womenswear for the first time. It could be considered an improvement of the 2016 F/W collection. JUNN.J is loved by both men and women and it had many unisex looks. Starting with this collection, we are going to expand our offering of womenswear.
Which fabric do you use the most?
It depends on the season but basically, we mostly use wool. It is my favourite fabric, especially felted wool as it's luxurious and feels good. Also, delicate cutting is possible because the more felted wool gets compressed, the harder it gets. It is the most effective fabric to create dramatic silhouettes, which could be seen as a symbol of JUUN.J.
You became a judge for the International Woolmark Prize a while ago.
I was able to come in contact with many collections by young designers as a judge of the International Woolmark Prize. As a judge, I was quite surprised that it was more 'cooler' than I imagined. It is an honourable award, yet people were not authoritarian nor stiff, but open-minded and talked freely. So instead of judging their collections, I thought of myself as a judge who was there to communicate as a fellow designer.
I think as a judge, you might have asked yourself 'what is a good designer?' Who do you think is a good designer, or in other words, what qualities should a designer have?
A designer should be in the pursuit of 'something new'. Regarding this, I believe every designer must be hard on him- or herself to a point of obsession. Good designers should think about what they've done in the past, find aspects that might have been lacking and continue to compete against themselves by finding things on which they can improve.
These days, K-fashion is in the spotlight of the world. Why is that? Where should K-fashion be headed?
Culture of a nation can never exist by itself. It's unconceivable that Korean culture - with K-pop at the forefront - could have exploded its potential while it was absorbing modern trends faster than any other city through the 'furnace-like' contemporaneity of Korea. For countries like Japan and Belgium that had an impact on fashion, their cultures were spread first. After, their fashion followed. I think this could be considered a positive sign for K-fashion. Korean designers are exquisite and detailed, and great at tailoring. They have a tendency to follow the latest trends, but they are extremely delicate and have superb technique making the quality of the garments excellent. With the synergy generated from the influence of K-pop and Korean designers' pursuit of quality for clothes, I believe K-fashion could really be a game changer.