---
Starting with her own herd of sheep, Dutch textile artist Claudy Jongstra handpicks the wool from which her felt is made. It's this unique, self-sufficient production chain which garners the interest of international architects and clients, including the Victoria & Albert Museum in London and the Museum of Modern Art San Francisco.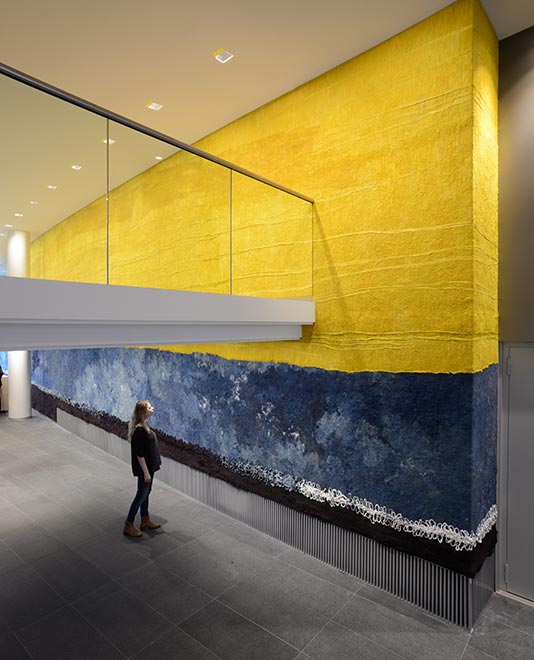 Natural Beauty
For more than 20 years Claudy Jongstra has been committed to designing and producing works of textile art. Wool felt is the core material for her tactile large-scale wall coverings, rugs and tapestries, which are included in the collections of many leading museums worldwide and are displayed in both private interiors and architectural spaces.
The beauty of nature plays a leading role in the expressive and tactile compositions of Jongstra. Apart from creating her works of art, she is known for her immense knowledge of raw materials including wool, silk and linen and has committed herself to a self-sufficient, organic production chain.
Starting with her own herd of sheep, which delivers the wool from which her felt is made, she then goes to her own dye house where the felt is naturally coloured from pigments derived from plants and fruits that grow around her studio farm. Jongstra's way of working is characterised by continuous search for new materials and applications.
We asked Claudy Jongstra the importance of being self-sufficient and why wool is her number one fibre of choice.
What is your first memory of wool and how did your professional affiliation with the fibre start?
Wool is our first skin and our first house, so it is a very important material to protect ourselves. Professionally, I started to work with wool since I discovered a Yurt of the Mongolian Nomads; beautifully raw, strong and primitive it inspired me to make my own felt samples.
Where do you seek inspiration?
From nature, including flowers, bees and Drenthe heath sheep. Also from the structure, colour and tactility of minerals.
Having a self-sufficient supply chain is quite rare; what was your motivation to not only acquire your own herd of sheep but also to use botanical dyes?
To guarantee the quality of the ingredients which are so important to use in my felt installations. To preserve the (nearly forgotten) dye plants, colours, techniques and finally to make a contribution to make the earth a better place. With this kind of action I try to stimulate the bio-diversity in the landscape.
How does this enhance your work?
By being self-sufficient I am able to show the beauty and vulnerability of forgotten plants, techniques, crafts and materials from nature.
What is your favourite piece of work you have made?
It's difficult to say, but the wall panels of the Barnes Museum in Philadelphia were very serene and beautiful. Also the tapestries we created for hospitals and prayer rooms have a special signification. I'm currently working on a mural for the MoMA in San Francisco, which of course at the moment is the most exciting project. The mural can be seen in May 2016 when the SFMoMA open its doors.
What is your advice to an interior designer or architect who has never worked with wool?
You should! Wool is a magnificent fibre; it has so many qualities. Even in an industry with smart textiles, it has not yet developed a material that has as many qualities as wool.